Fast, Hygienic Filling and Weighing Solutions for Gummies
Fill gummy products with confidence with Spee-Dee's simple, safe and hygienic filling and checkweigher solutions. Our equipment prevents product contamination and is designed with safety and sanitation in mind.
Our rotary filling systems easily integrate with numerous multihead weighers or counting machines to ensure reliable fills each and every time. A Spee-Dee patented segmented carousel assembly (U.S. Patent #10,994,879) helps stream gummies from the weigher to the filling system, allowing for high-speed, accurate container filling. In one installation, our gummy system is reliably filling containers with a 45 count at 180 bottles/minute.
Optimize your operations with faster fills and changeover rates with Spee-Dee's simple and reliable gummy packaging systems.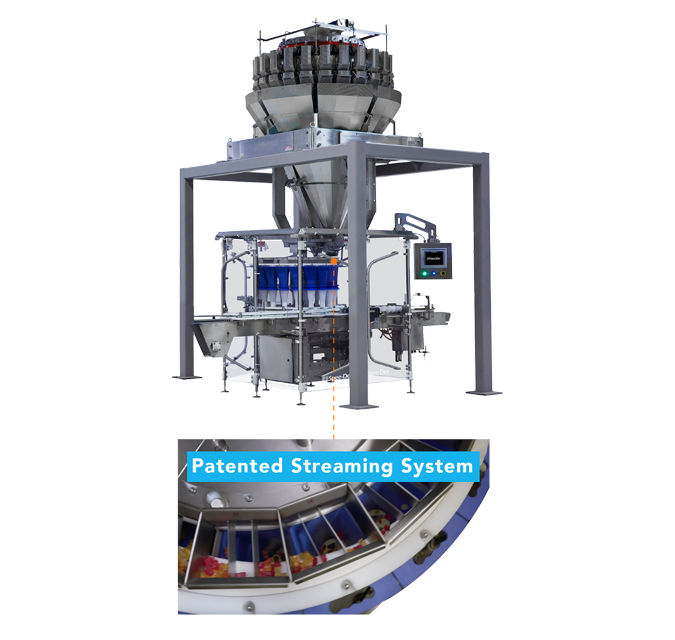 High-Speed, Accurate Gummy Filling
Achieve fast, accurate fills with Spee-Dee's gummy filling solution. Easily integrate a multihead weigher which ensures reliable, consistent and accurate counts each and every time, fill after fill.
Unmatched Streaming Technology
Spee-Dee's patented product streaming system allows for high-speed container filling.
Spee-Dee's patented segmented carousel assembly streams gummies without clumping.
The weigher deposits gummies into the fill bucket
Pocket dividers in the fill bucket separate the gummies
String out plate deposits gummies in a stream
Filled with Sanitary and Quick Changeover Features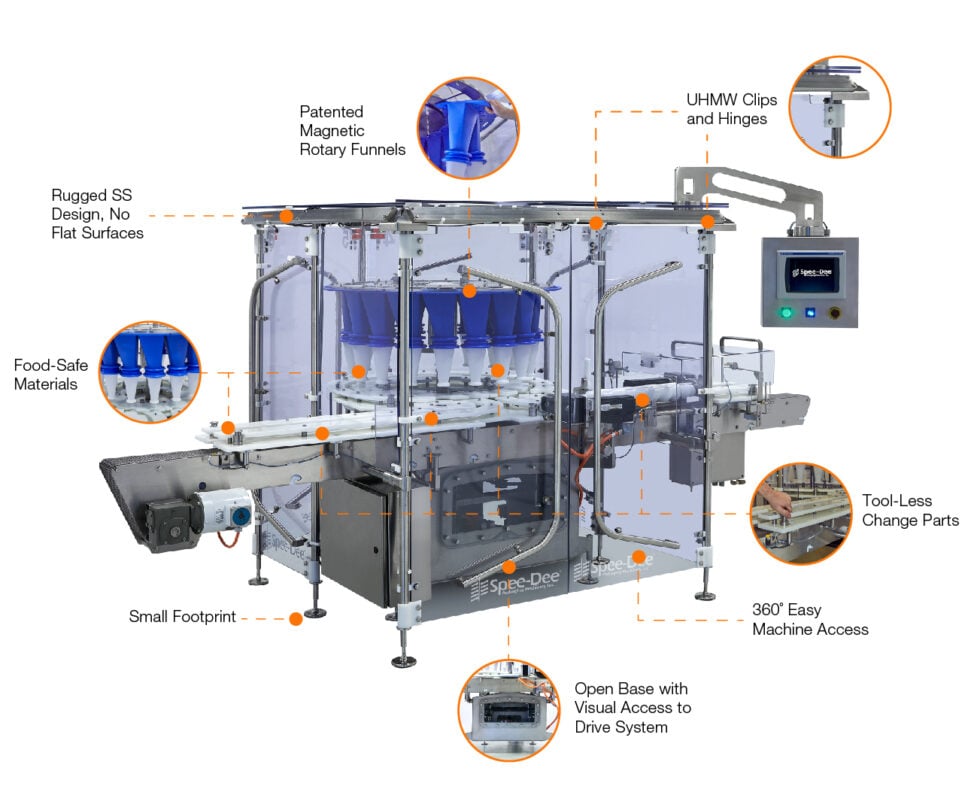 Hygienic Design Ensures Safe Product Fills
Spee-Dee's hygienic rotary filling system for gummies is designed for fast filling and cleaning.
Food-safe funnels and adapters ensure quick changeover and sanitary filling

A rugged stainless steel frame and open base eliminate harborage areas and allow for easy cleaning

UHMW rails, hinges and cable clips designed for sanitary washdown environments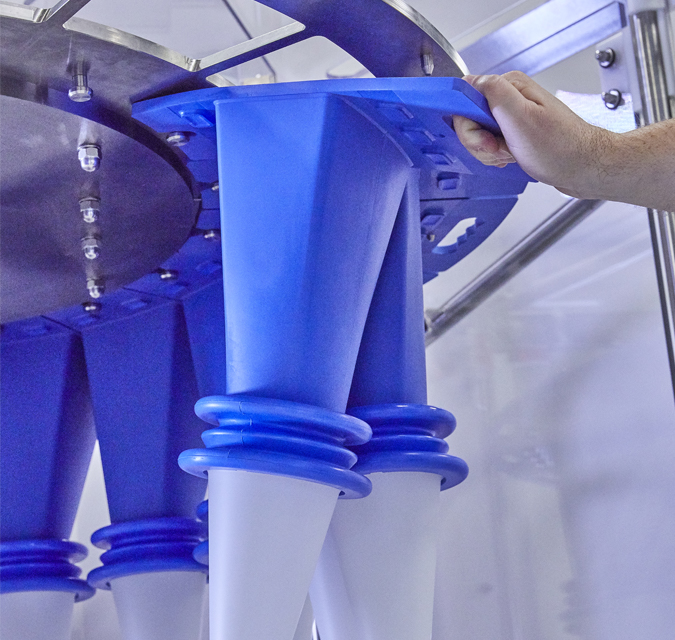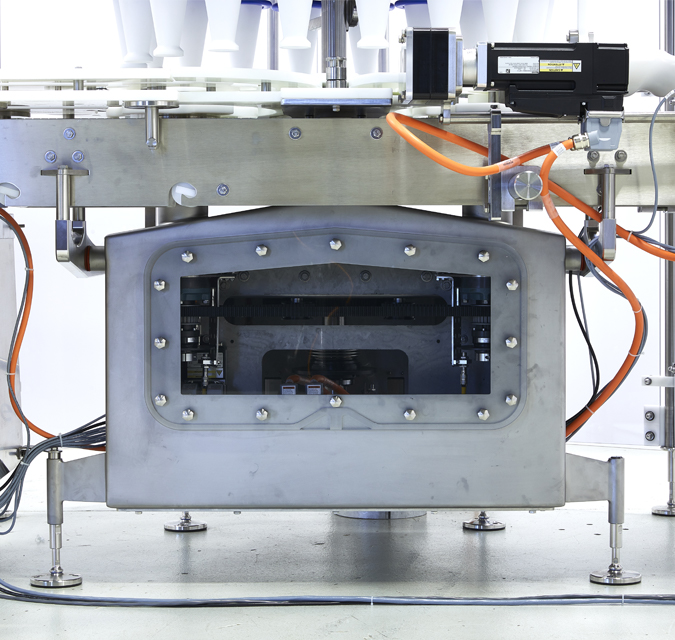 Small Footprint for Easy Access
Our gummy packaging system provides accessibility for easy maintenance and cleaning.
Small, open base that holds the servo drive and gear box for the turret and starwheels

Guarding is independent of the frame itself and allows for easy 360° "walk-in" machine access

Product settling vibrator is floor mounted, no additional framing needed
Quick Changeover Boosts Gummy Production
Reduce downtime and maintain production with our gummy filling solution that boasts the fastest changeover rate in the industry.
Fast, hygienic changeover with patented magnetic filling funnels and segmented fill plate

All timing screws, starwheels and rails feature a tool-less design that enable product switches on the fly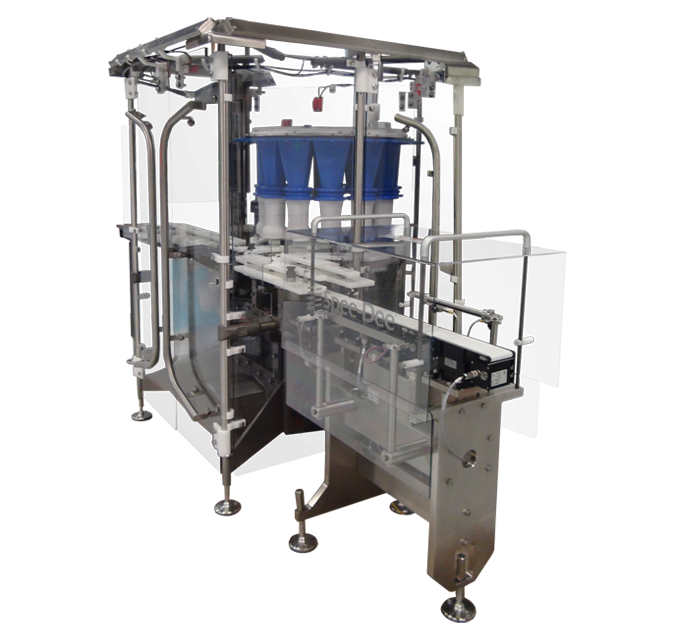 High-Speed, PLC-Based Checkweighers
Spee-Dee's PLC-based checkweighers check individual gummy containers and bulk cases of gummies at high speeds, helping to reduce costly product loss and ensure accurate fills.
Electro-Magnetic Force Restoration (EMFR) weighing technology is 10 times more accurate than traditional strain gauge load cells

Simple, one minute calibration at your facility without needing a Spee-Dee technician

Communicate with other plant systems via non-proprietary PLC-based controls
Contact Spee-Dee Today to Learn How to
Make Your "Good" Filling GREAT!