Precise Filling for Nuts and Snacks
Fill nut and snack packages quickly and accurately with Spee-Dee's filling systems. Our filling machines for nuts and snacks easily handle the most challenging packaging applications.
Our filling equipment can accommodate a wide variety of packaging for nuts and snacks, such as pretzel nuggets, cheeseballs, popcorn, sunflower seeds and more, including:
Glass and plastic jars
Flexible, stand-up pouches
Pillow bags
Cardboard cartons
We offer filling machines that easily integrate with:
Vertical form fill and seal baggers (VFFS)
Horizontal form fill and seal pouch machines (HFFS)
Pre-made pouch machines
Spee-Dee rotary filling systems
Spee-Dee in-line conveyors
Spee-Dee's nut and snack filling machines help ensure accurate product fills at high speeds and reduce downtime.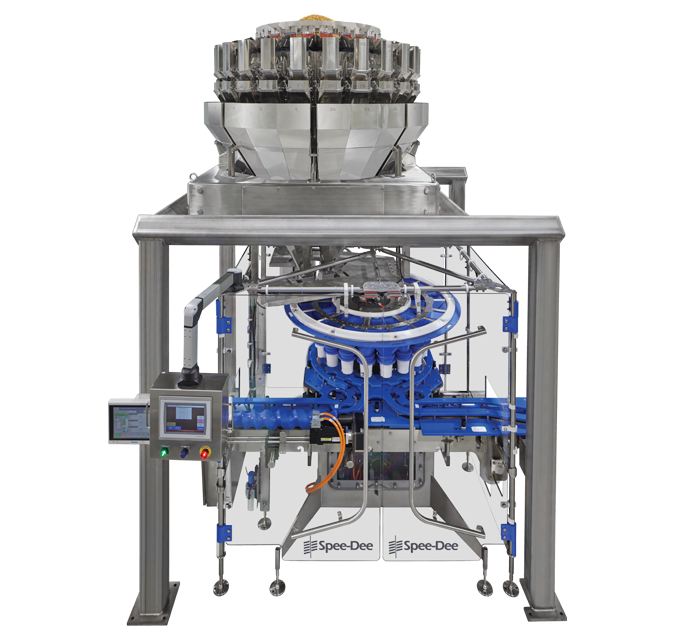 Rotary Fillers Load Nut and Snack Packaging at High Speeds
Spee-Dee's high-speed rotary filling systems accurately fill nut and snack packaging.
Integrated combination scale ensures accurate fills at high speeds
Achieve easier cleaning, maintenance and changeovers with tool-less change parts
Fast, hygienic changeover with patented magnetic filling funnel
Incorporate a Spee-Dee checkweigher to verify precise and accurate product fills
Cup Fillers Offer Accurate, Dependable Fills
Spee-Dee volumetric cup fillers are designed for fast cup size changeovers to optimize productivity, and can also accommodate bags, pouches or rigid containers, such as popcorn tins with multiple flavors.
Achieve speeds up to 120 containers per minute

Simple servo drive system and minimal number of parts reduces changeover time and maintenance

Address diverse product fill needs with cups of varying sizes that can be easily inserted without tools

PLC controls offer flexibility to adjust timing settings and accommodate multiple drop fills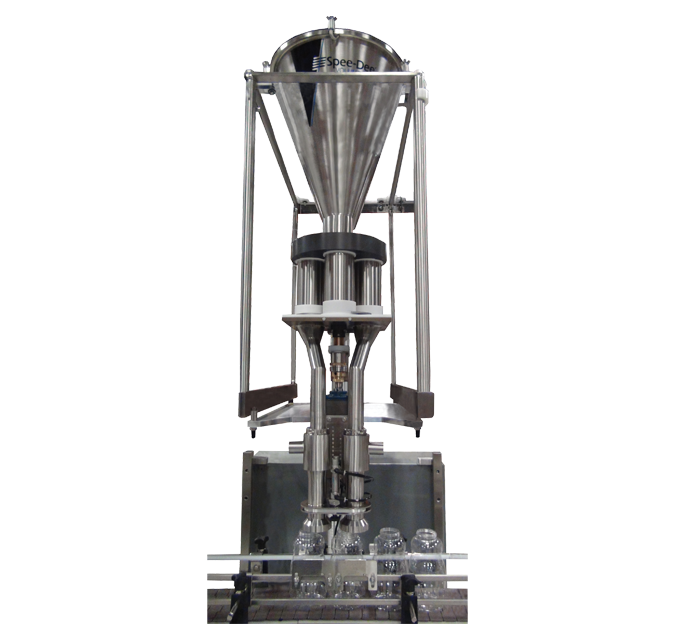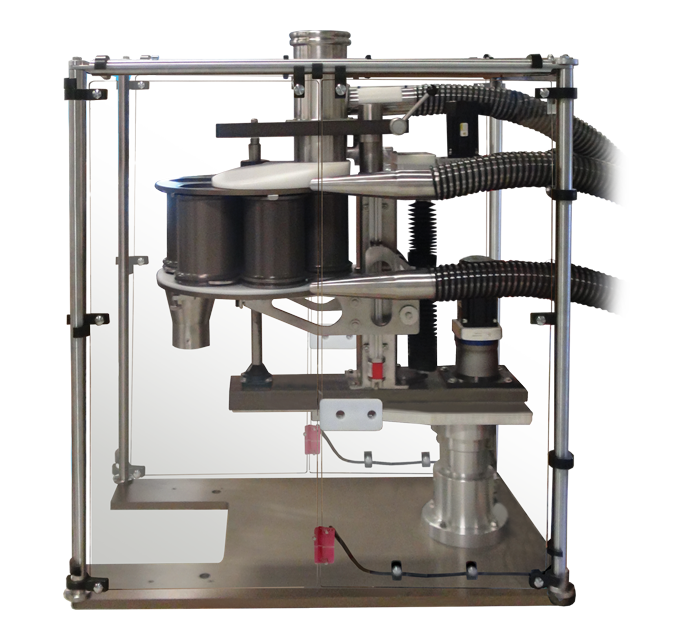 Advanced Volumetric System (AVS) Offers Precise Fills
Spee-Dee's AVS directly mounts over a VFFS bag machine or conveyor system, replacing large, complicated multihead weighers that typically require a mezzanine. The AVS delivers precise fills when nut and snack packagers need to fill by volume and sell by weight.
Smart filler automatically adjusts fills based on feedback from the checkweigher to account for density fluctuation of nuts, trail mix and other snack foods
Less than half the cost of a more complicated multihead weigher
Simple, operator-friendly design with fewer moving parts and less to maintain
Quick changeover of cups and tooling within minutes boosts uptime productivity versus several hours with typical multihead weighers
Conveyor Systems Automate Filling Lines
Spee-Dee's efficient conveyor systems pack granular product like nuts and snack mixes into a variety of containers.
Freestanding fillers reduce downtime and ensure fast product changeover with adjustable height stands for different container heights and diameters

Achieve easier cleaning and maintenance with removable belt and rails that disconnect easily without tools

Accurate fills guaranteed with pneumatic indexing cylinders that position the container under the filler

An adjustable speed drive offers the ultimate flexibility and timing controls are readily accessible

Integrates with Spee-Dee's volumetric cup fillers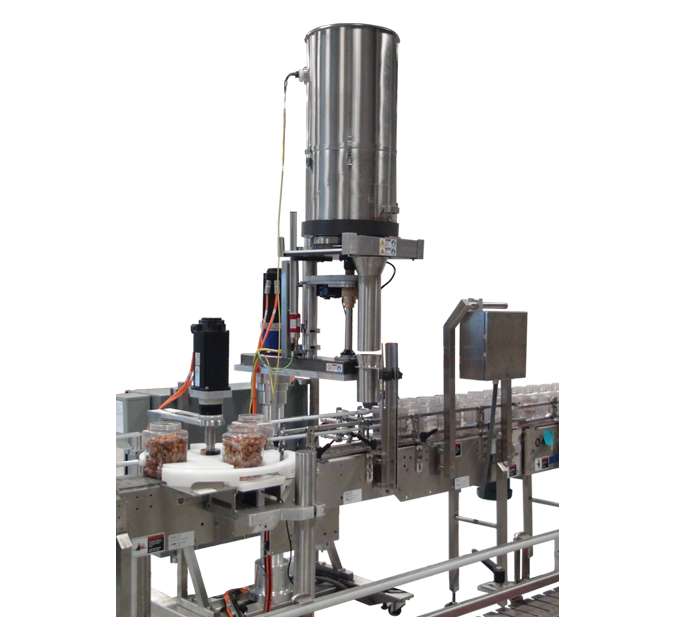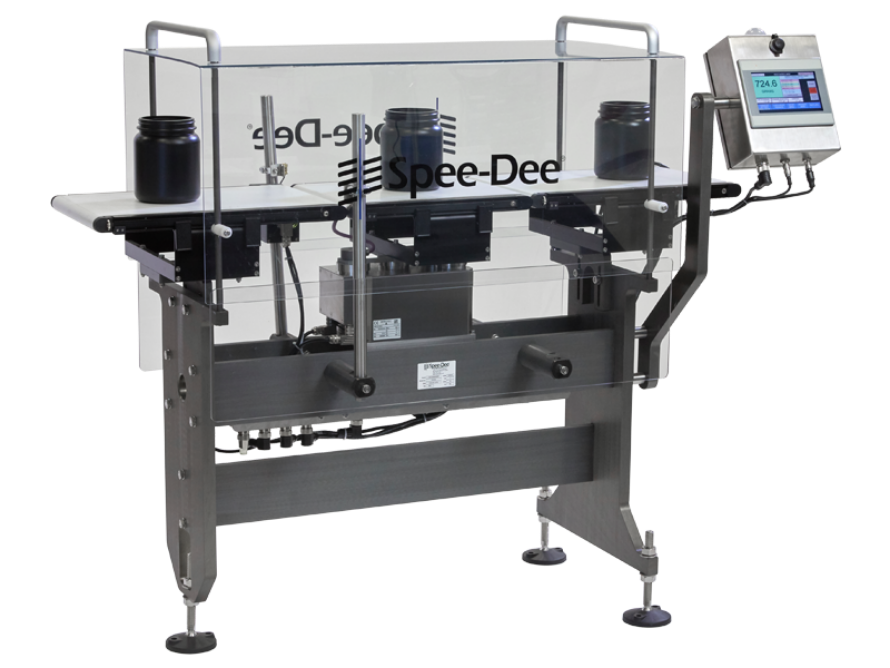 High-Speed, PLC-Based Checkweighers for Accurate Fills
Spee-Dee's PLC-based checkweighers check product weights at high speeds, helping to reduce costly product loss and ensure accurate product weights.
Use as a standalone unit or integrate with new or existing lines
Electro-Magnetic Force Restoration (EMFR) weighing technology is 10 times more accurate than traditional strain gauge load cells
Communicate with other plant systems via non-proprietary PLC-based controls
Calibrate at your facility in one minute, without needing a Spee-Dee technician simply follow on-screen prompts
Contact Spee-Dee Today to Learn How to
Make Your "Good" Filling GREAT!