Accurate Baking Mix Filling
Fill baking mix packages quickly and accurately with Spee-Dee's powder fillers. Our filling machines easily handle the most challenging bakery mix packaging applications.
We offer fillers that easily integrate with:
Vertical form fill and seal baggers (VFFS)
Spee-Dee's baking mix filling solutions will help ensure accurate product fills at high speeds, all while reducing downtime.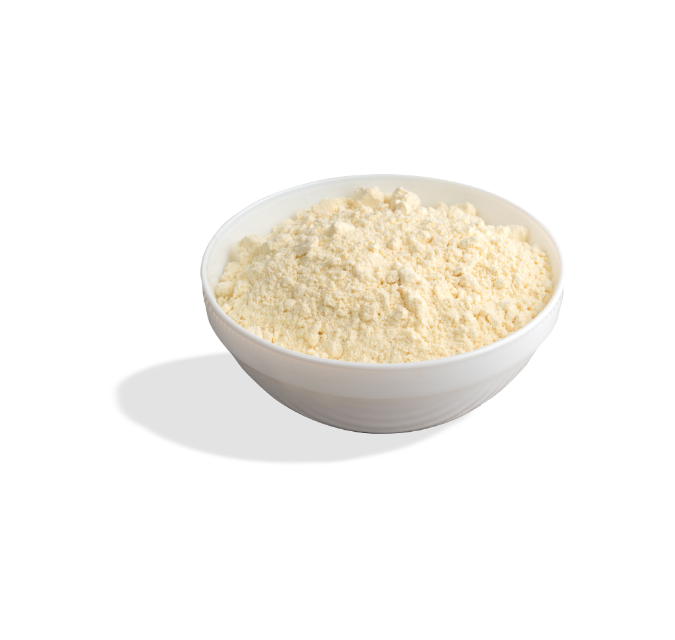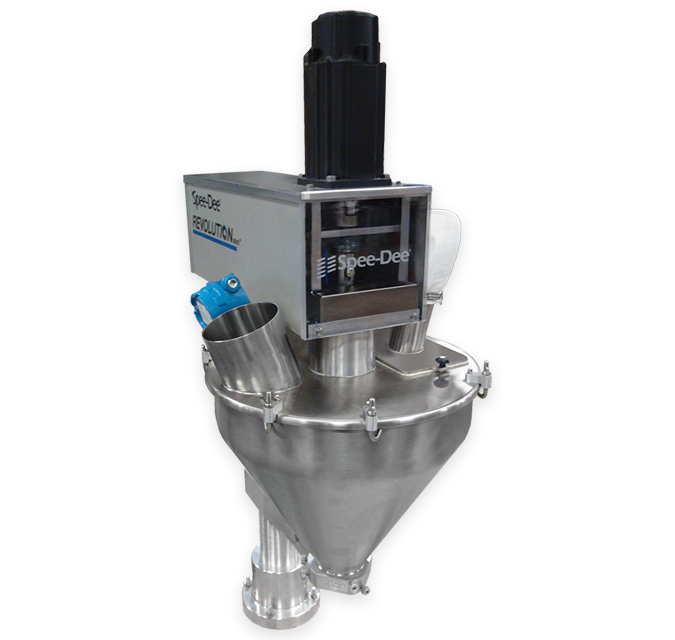 Auger Fillers Offer Drip-Free Baking Mix Fills
Spee-Dee's augers easily handle baking mixes with free-flowing granular and non-free-flowing powder properties.
Spee-Dee's Revolution auger fillers provide reliable, unmatched performance and affordable value.
Fill range of 5 grams to 5 pounds
Precise servo motor auger control
Powerful direct drive design
Up to 150 bags per minute on a continuous motion VFFS machine
PLC-based controls with full-color touch screen interface
3800 Servo Auger Filler
Spee-Dee's 3800 servo auger filler offers flexibility for baking mix packaging changeovers and promises accurate fills:

Servo drive accelerates to chosen speed to ensure smooth filling cycle

Memory for 50 product profiles by name or code

Billited hopper cover, quick disconnect hopper clamps and removable hopper gasket ensure sanitary operating conditions

Ability to adjust revolutions, auger or agitator speed while in operation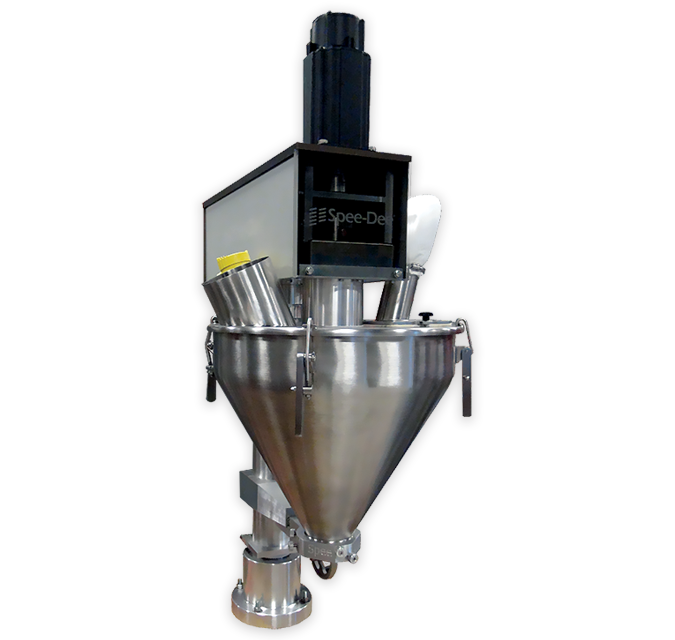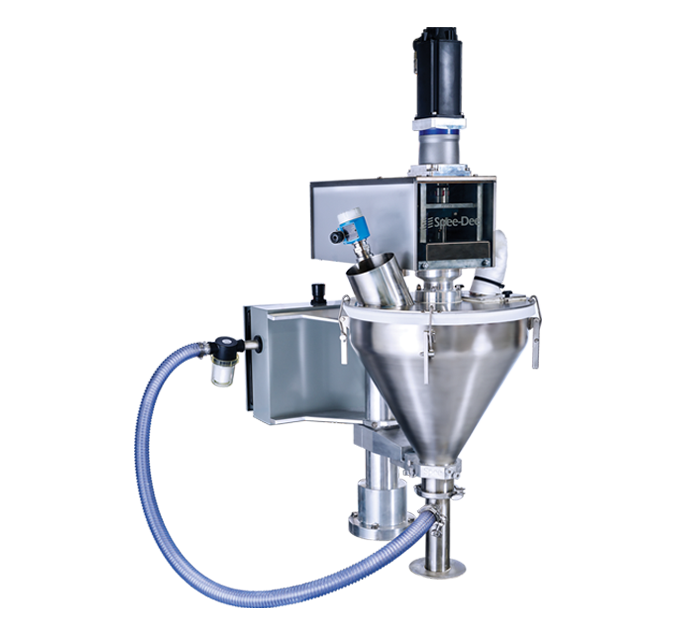 Achieve Drip-Free Fills with Auger Vacuum Tooling
When integrated with our vacuum tooling, fills become dust- and drip-free and clean seals are guaranteed. Ideal for form fill and seal baking mix packaging, Spee-Dee's 4800 auger features vacuum tooling, which is designed without moving parts, making it an ideal bakery solution.
Powder auger series 4800 integrates with vacuum tooling for dust-free fills
Available for high-torque applications
Ideal for product fills more than 5lbs
Combination Fillers for Multiple Components
Spee-Dee's combination fillers are used when two or more additives are required, such as chocolate chips, nuts or dried fruit in the same package.
Several configurations available to meet specific baking mix filling applications

Easily integrate an auger (for mixes) with up to two volumetric cup fillers (for additives)

Reduces cleaning time by separating allergens from the rest of the filling line system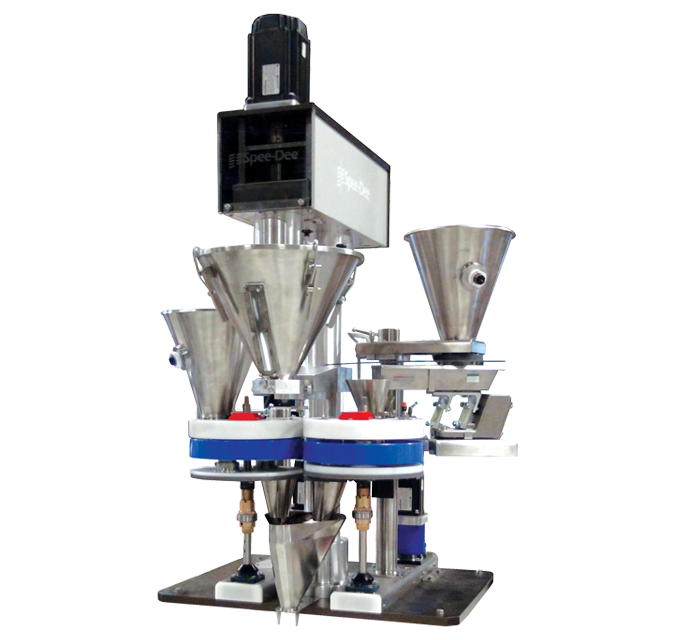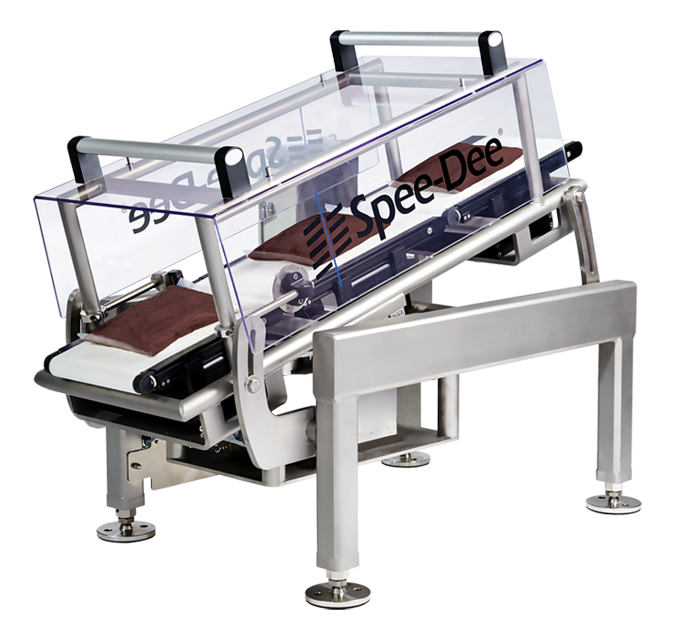 High-Speed, PLC-Based Checkweighers for Accurate Fills
Spee-Dee's PLC-based checkweighers check product weights at high speeds, helping to reduce costly product loss and ensure accurate product weights.
Use as a standalone unit or integrate with new or existing lines
Electro-Magnetic Force Restoration (EMFR) weighing technology is 10 times more accurate than traditional strain gauge models and guarantees precise and reliable measurement
Communicate with other plant systems via non-proprietary PLC-based controls
Calibrate at your facility in one minute, without needing a Spee-Dee technician–simply follow on-screen prompts
Contact Spee-Dee Today to Learn How to
Make Your "Good" Filling GREAT!