Rotary Filling
Machines Quickly, Precisely
Fill Rigid Containers
Spee-Dee's rotary filling machines help the food, pharmaceutical and nutraceutical industries quickly, safely and cleanly fill dry products into rigid containers of many sizes, shapes and types, including:
Plastic Tubs & Bottles – for products such as nuts, spices, parmesan cheese, whey/protein/nutraceutical powders, infant formula, baby food, gummies and pet food/treats
Glass – for products such as spices
Fiberboard – for household products such as detergent
Metal Cans – for products such as milk powder
High-Speed Rotary Fillers Easily Integrate with Filling Systems
Our high-speed rotary fillers easily integrate with filling systems such as Spee-Dee auger or cup fillers as well as high-speed combination weighers. A Spee-Dee checkweigher can also be integrated to help ensure accurate fills and weights. In addition, container vibrators settle the product into the container and optimize headspace. This enables our rotary fillers to achieve accurate, reliable filling—every time.
Rotary with Combination Scale
Rotary with Electronic Counter
Rotary Fillers Feature Simple, Hygienic Design
Spee-Dee's rotary filling machines enable safe and hygienic operation quickly and precisely. An open, accessible design provides easy access and maintenance. Tool-less design allows for effortless, simple changeovers. Other features include:
Timing screw, star wheels and turret are synched via servo motor
Change parts are all tool-less, for easier cleaning, maintenance and change overs
Filling funnels with a patented method to attach to the turret using embedded magnets, not fasteners, making the filler more hygienic and quicker to change over
Servo drive augers can be raised, pivoted and lowered outside the guard to improve accessibility from floor level
The fill plate is built in segments so it can easily be removed by one individual
The hygienic conveyor has a tool-less slider bed and roller returns that remove for full access
Optional stainless steel construction ensures long-lasting durability and a more hygienic machine
Optional dust collection and gassing covers available
Allen Bradley Compactlogix PLC and PanelView 1000+ HMI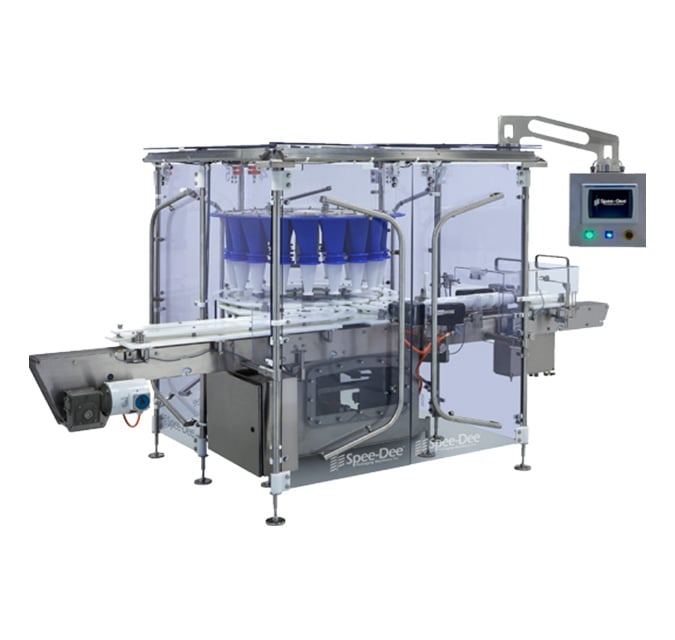 Tool-Less Change Parts
Cleaning, maintenance and changeover made simple with tool-less change parts to accommodate different sized products.
Magnetic Rotary Funnels
Reduce changeover time and improve cleaning and sanitation with a patented magnetic funnel connection that eliminates the use of fasteners.
Container Adapters
Quickly and easily adapt to different container height and shape with custom container adapters.
Full Machine Access
Reduced base size/footprint and full-length doors provide easy access to all sections of the machine.
Hygienic Base Design
A small footprint saves space. Sloped surfaces and visual inspection windows allow for easy maintenance.
Integrated PLC Checkweigher
Achieve automatic weight adjustment/ tendency control. The filler and Spee-Dee checkweigher are combined into a single user interface.
Ideal Markets for Rotary Filling Machines
Spee-Dee's rotary fillers quickly and reliably fill products for many markets. Click on your product below to learn more:
Easy, Tool-Less Changeovers
Watch Our Demo
Contact Spee-Dee Today to Learn How to
Make Your "Good" Filling GREAT!