Maximize Line Efficiency with Auger Filler Accessories
All Spee-Dee auger fillers can be fitted with a variety of options and accessories to maximize your line efficiency.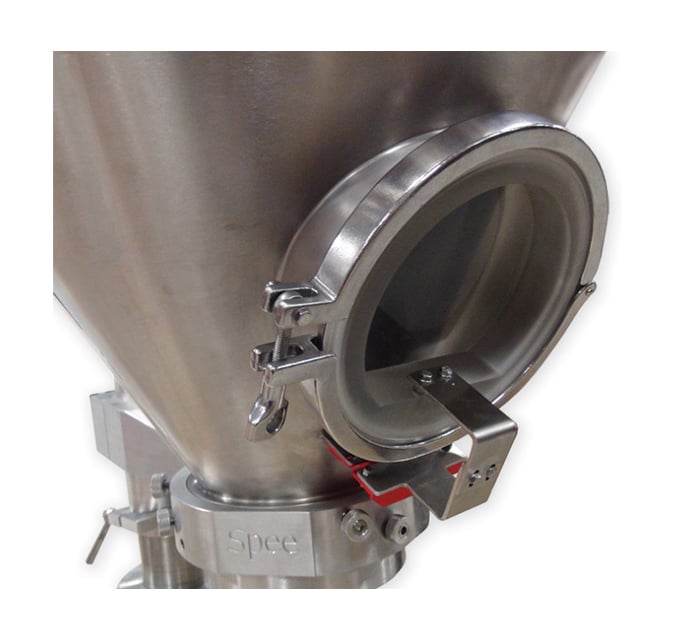 Accessorize Your Auger Filler for Your Product
Whether you want to simplify changeover, add a gas flush fitting or offline check weigh system, Spee-Dee has you covered.
Infeed Screw
Resolves problems associated with hopper head pressure and maintains optimal fill accuracy.
Gas Flush Fittings
Allows the filler to be connected to a nitrogen flushing system.
BFM Hopper Inlet
Ensures a dust-free connection to the feed system without tools or clamps.
Hopper Window
Access Spee-Dee's exclusive sliding key tooling lock for quick changeovers.
Offline Checkweighing
Operators can manually weigh packages. Auger revolutions automatically adjust to compensate for density changes.
Hopper Clamps
Quick disconnect clamps allow hopper to be removed quickly for easy cleaning and tooling changes.
Removable Hopper Gasket Seal
Designed for quick and easy removal, cleaning and replacement.
Split Hopper
Makes tool removal and cleaning fast and easy. Gasket is molded to hopper cover for a dust free seal.
35 Gallon Hopper
Used for filling large packages.
Adjustable Height Stand
Easily accessible crank to accommodate bottles and containers of different sizes.
Adjustable Machine Top Base
Adjustable height; designed to work with vertical baggers running high-speed applications.
Level Control
Probe senses the absence of product and keeps hopper head pressure constant to maintain accuracy.
Vacuum Conveyor
Used to load bulk dry powder into Spee-Dee auger fillers.
Contact Spee-Dee Today to Learn How to
Make Your "Good" Filling GREAT!