Precise, Repeatable Filling Cycles with 3800/4800 Auger Fillers
Spee-Dee 3800/4800 Series auger fillers help you achieve precise, repeatable filling cycles—and virtually eliminate maintenance. The innovative servo direct drive design gives you a smooth, repeatable filling cycle for free-flowing granular and non-free-flowing powder substances. Our smart design couples the motor directly to the auger shaft, eliminating more than 30 wear parts found in traditional clutch/brake and other auger filling systems.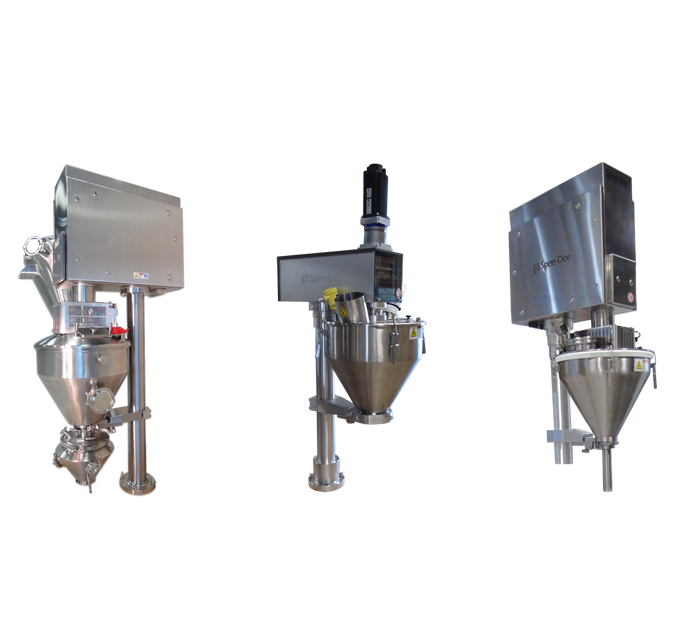 Versatile Auger Fillers for Various Products
No matter what your product needs may be, Spee-Dee's versatile auger fillers have you covered. From nutraceutical powders to industrial chemicals, Spee-Dee has the right filler for your product.
3800 Servo Auger
Our most versatile powder filler provides a multitude of options and configurations to ensure precise power fills.
3800 with Epoxy Coating
Designed to handle caustic products like pool chemicals, which tend to degrade bare stainless steel.
4800 Servo Auger
The ideal choice for VFFS applications. Runs larger fills or more challenging products which require a higher torque motor. 20-gallon hoppers and vacuum tooling are available.
Ultra-Hygienic Auger
Designed to meet rigorous hygiene standards of regulatory agencies. Ideal for infant formula, dairy or nutraceutical powders and other applications with demanding sanitation standards.
Ultra-Hygienic Washdown Auger
Angled surfaces, a sloping shroud and a dome-shaped hopper cover allow fluids to drain away from the machine easily to prevent product contamination from outside sources.
Contact Spee-Dee Today to Learn How to
Make Your "Good" Filling GREAT!