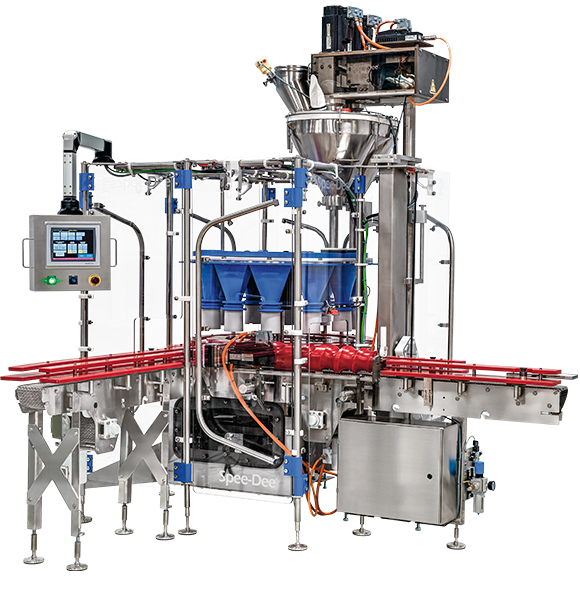 Filling and Weighing
Solutions Built for Accuracy
Improve uptime and increase production speed with filling solutions and checkweighers designed for your specific application. Spee-Dee builds equipment with simplicity in mind, backed by a commitment to service and quality for the food, pharmaceutical and nutraceutical industries.
What Our Customers Are Saying
Spee-Dee was easy to work with and supportive from the start of the project. Their equipment is well-designed and easy to operate. We still have plans to grow here at Vital Proteins and, thanks to Spee-Dee, we are able to meet increasing consumer demand and have the ability to expand.
Scott Springer, VP of Operations
Vital Proteins
We have various suppliers and the product varies with weight and size at times, which previously led to product giveaway. With Spee-Dee's equipment, I can make changes as accurate as a tenth of a gram and still run at high speeds.
Ray Sanna, Packaging & Plant Engineer
Saco Foods
Our partnership with Spee-Dee is great - to start, they're not far from us. They can get to us in an hour, I can get to them in an hour. We knew right away it was going to be a good relationship - Cheese Merchants is a family-owned company, Spee-Dee is a family owned company. And from there, the vetting process really just came down to the equipment.
Rob Arko, Director of Engineering
Cheese Merchants
We used to do everything by hand — the product was filled on a scale, weighed manually and packed the same way. Now they are being automatically filled and weight-checked within the same line. It has made the packers' lives much easier.
Paul Schaum, Chief Operating Officer
Pretzels Inc.
Our experience with them has been phenomenal. Their company culture and values seem aligned with ours. The level of trust and respect both companies have for each other truly has made the relationship more like a partnership than just a transaction.
Jared Stumpenhorst, Systems Engineer
Crest Foods
So when it came to picking a filling machinery supplier, we wanted partners with experience handling similar products. Spee-Dee was not only a good partner for us but had many partnership relationships with the other machinery suppliers whose components are integrated with the actual filler itself, which helped streamline the process.
Chris Darling, Director of Engineering
Beech-Nut
I believe this system has demonstrated that the right investment in the right equipment will deliver the expected results. "A" market vendors Like Spee-Dee and other PMMI member vendors can provide efficient solutions. This system has proven what the right amount of investment with the right vendors can achieve.
Toby Strickland, Automation Acquisition Consultant
Fusion Support Services LLC
It definitely is a very good piece of equipment, I would say it's one of the best pieces of equipment we've purchased as a company, and it's really gearing us towards a true CPG company.
Bryce Watters, Regional Continuous Improvement/Lean Manufacturing Manager
Green Thumb Industries